Our Founder's Views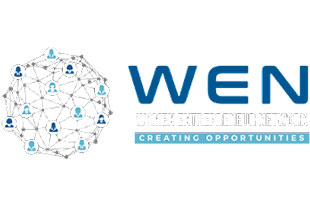 How did you get your idea or concept for the business?
Kanika – I had to take a break in my career due to father in law's health and my son's 10th Std. and coming back to industry had its share of challenges. During these 18 yrs of work , had been contacted by so many ex colleagues who wanted me to help them with flexible working options and I could find hardly any options for them even though I knew they were good.
Vipul – We have just started our journey… we have identified a list of 35 professional services that one can easily manage from home (the last year has got us to think there can be more) and we would want to get all these to the platform after we champion the recruitment process. WEN is the diversity hiring partner for many corporates and there are lot of them we can and will want to engage with us so miles before we sleep…
What was your mission at the outset?
Kanika – Making as many women regain their financial independence at their Terms and at their Turf.

Vipul – The mission is to enable women to become entrepreneurs so they build their careers on their own turf and at their own time by having multiple women on the network we build a system where each one can be the back up and support for the other that way the women get flexibility whereas the client gets a seamless operation wile we've started with recruiting our plan is to get into every service that can be offered from home
Do you have any funny stories, experiences while being associated with WEN?
Kanika – We have just 2 men in our team and once for a pitch we ( both the men and myself) were on a zoom call with a client and I started my introduction is my regular spiel " We are an all women company " and all 3 of us smiled at each other realizing that I was the only women in the zoom call

Vipul – Not funny but definitely fun story when we went out with the team for dinner in Goa I had a really great time
What has been your most satisfying moment in business?
Kanika – Every month on 15th when we make payouts to our WEN-preneurs, seeing the numbers increase each month is a happy and satisfying moment. Clients supporting the cause of women is a satisfying feeling. Seeing the payout value of WEN-preneurs increase from few thousands to few lacs is satisfying.

Vipul –
When one of our wenpreneurs made 19 Lakhs

When one of our clients called me and said we have rockstars

When we closed the CFO at NDTV

When Cars24 and Delhivery and now HCL and PWC became big accounts

When Kanika got the DBS-NUS recognition as the top 50 social enterprises in Asia
How do you see the future of WEN
Kanika – We have just started our journey… we have identified a list of 35 professional services that one can easily manage from home (the last year has got us to think there can be more) and we would want to get all these to the platform after we champion the recruitment process. WEN is the diversity hiring partner for many corporates and there are lot of them we can and will want to engage with us so miles before we sleep…
Vipul –
I want wen in the next 2 ye

ars to be a network of 2000 plus women

I also want that we should start at least one more service line

When a woman thinks of what to do in her career she should think of WEN
---