Why D&I (Diversity & Inclusion)? Why Gender diversity?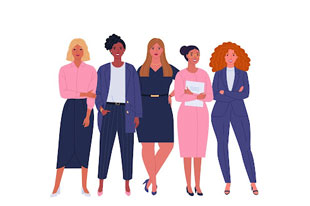 Diversity and Inclusion in a nutshell is about empowering people by respecting and appreciating what makes them different, in terms of age, gender, ethnicity, religion, disability, sexual orientation, education, and national origin. Then why India we are more focused on gender hiring? It's because India ranks108th in the World Economic Forum's Gender Gap Index 2018. The World Economic Forum reported that we are 202 years away from bridging the Global Gender Gap, hence the focus is on gender hiring.
If we look at the current hiring and job trends in India being the 7th Largest country in the world it continues to be the one-stop destination for global sourcing, with a 56% share in 2015. The information technology-business process management (IT-BPM) workforce is becoming increasingly diverse in terms of socio-economic, linguistic, multinational and regional backgrounds. The Indian IT-BPM industry has seen the number of women employed increase to over 1.3 million which is more than a third of the total workforce. Women constitute more than half of the current entry-level hires.
Currently, the information technology-business process management (IT-BPM) industry employs around 3.7 million people and generates indirect employment for more than 10 million employees. The IT industry, which is fast growing, enjoys worldwide demand for its services. This in turn has given rise to challenging job opportunities as well as roles, and has made the industry an attractive place for millennial and young minds, who view the sector as a viable career option, irrespective of gender, disability and location. The average age of the workforce within the industry stands at 27 years. It thus emerges as a leading sector in terms of employing the millennial workforce (defined roughly as those born between the early 1980s and the mid-1990s, and for whom digital is a way of life). The industry is a melting pot of different cultures, nationalities and geographies in India.
Today, around 50% of its employees hail from Tier I locations in India. Further, it employs foreign nationals from over 100 countries (a total of 1,70,000 foreign nationals), and over 40% of the headcount of global MNCs in India. While a majority of its hires (approximately 50%)are graduates (excluding engineers), the sector employs a diverse mix in terms of skills and knowledge, with a fair share of engineering graduates (32%) and postgraduates (13%), and over 2,50,000 digital specialists and super specialists in the area of social media, mobility, analytics, cloud (SMAC).
Today, women constitute 34% of the IT-BPM workforce (i.e. over 1.3 million women employees) an increase of around 1.8 times since FY2009. Nearly 10% of these women are in senior management roles (approximately 1% in the C-suite). Further, around 28% of the women employees in the sector are primary breadwinners, thereby indicating the changing trend of women's employment and inclusion in the sector.
The WEN-Women Entrepreneur Network contribution:
As an organization our motto has always been to empower women and give them a platform to start their 2nd innings, the entry of PwC and Jobsforher in our clientele has opened doors to us to contribute largely in Gender hiring . An average of 10 mandates in gender hiring do come our path per month. The game changer for gender hiring was onset of the pandemic; COVID has altered the human ethos and has triggered numerous feelings of realizations, epiphany & resilience around us. Companies has given a good thought on WFH concept. The benefits they yield from this Concept of WFH were abundant and this boosted the gender hiring. Opportunities to tap in this market are plentiful, time and the right rigor is essential to source for gender hiring. We at WEN are in the process & hope to build this vertical so more women are empowered everyday!
– Article curated by Tinto Thomas
---